Member
Original poster
Registered
Jul 10, 2019
24
27
13
AGName

Jolek
AG Join Date

Jan 18, 2016
Fortuna made by krat0s is homebrew launcher for PS2 models. It allows you to run your own homebrews.
For now this
exploit
supports all SLIM models,
along with models that have BOOT-ROM 2.30 lub higher.
What are the requirements?
A PS2 Memory Card
A way to transfer files to the Memory Card (one time setup)
HOW TO INSTALL & USE?
Download the package (FORTUNA_rev?.zip).
Currently this exploit works only on SLIM (all of them),
starting all the way from SCPH-700x and up to PS2 TV.

If you have a FAT PS2, for know you have to wait...



For rev_2 changing the date is not needed, so you can skip this part,


however if you will have any problems try to do it.

For rev_1 on your PS2 go to System Configuration and set the date to a year like 2050 or so.

Q: Why do I have to set the date first before installing?
A: The file must be the first file on the memory card (MC) when you see the PS2 Browser menu. The first file the save file which has been last written to. If you don't do the clock trick, then when saving games the icon will no longer be the first one in the PS2 Browser menu.


Extract the contents of the package and copy the entire FORTUNA folder to the ROOT of your memory card:



Rev_2 supports both slots ("mc0:/" and "mc1:/").
Rev_1 supports only 1st slot ("mc0:/").


On your PS2 go to System Configuration and set the date to the correct date.


This step is needed for rev_1, for rev_2 if everything is fine there is no need to do it.




Turn off\on your PS2.


Go to the PS2 Browser menu (PS2 default browser where you see all your game saves on your memory cards).


Select the memory card (MC) you have copied the file to:



Rev_2 supports both slots.
For rev_1 preferably 1st slot ("mc0:/") is needed.


For rev_2 all the icons can load.
For rev_1 let it load ONLY 2-3 icons and then hit back right away. Do not allow it overpopulate the list:





You will notice a memory card (MC) icon is missing.





Go back one more time, this time mc?:/FORTUNA/BOOT.ELF
it will execute which in fact is the latest uLauchELF (uLE).
--- now from there you can do what you want and etc., like load homebrew APPS and etc.


Now once everything has been installed, repeat step from 6 to 10.
Source:
https://www.ps2-home.com/forum/viewtopic.php?f=107&t=8542
.
Additional info:
https://www.psx-place.com/threads/finally-all-ps2s-incl-tv-hackable-another-discless-exploit.27226/
.
Download:
Additionally for this exploit there is also FORTUNA Launcher by VTSTech.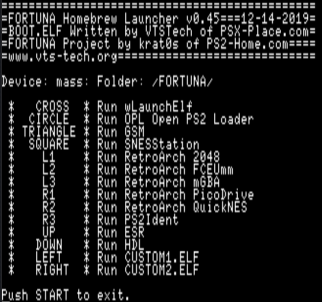 Rename "FORTUNA_Launcher.elf"\"FORTUNA_Launcher-packed.elf" to "BOOT.ELF" and copy to your "mc0:/FORTUNA/" folder.
Currently this app uses following paths:
Code:
wLaunchElf

mc0:/FORTUNA/WLE.ELF
mass:/FORTUNA/WLE.ELF
mc0:/APPS/WLE.ELF
mass:/APPS/WLE.ELF

OPL

mc0:/FORTUNA/OPL.ELF
mass:/FORTUNA/OPL.ELF
mc0:/APPS/OPL.ELF
mass:/APPS/OPL.ELF

GSM

mc0:/FORTUNA/GSM.ELF
mass:/FORTUNA/GSM.ELF
mc0:/APPS/GSM.ELF
mass:/APPS/GSM.ELF

ESR

mc0:/FORTUNA/ESR.ELF
mass:/FORTUNA/ESR.ELF
mc0:/APPS/ESR.ELF
mass:/APPS/ESR.ELF

RetroArch

mc0:/FORTUNA/retroarchps2_2048.elf
mc0:/FORTUNA/retroarchps2_fceumm.elf
mc0:/FORTUNA/retroarchps2_mgba.elf
mc0:/FORTUNA/retroarchps2_picodrive.elf
mc0:/FORTUNA/retroarchps2_quicknes.elf
mass:/FORTUNA/retroarchps2_2048.elf
mass:/FORTUNA/retroarchps2_fceumm.elf
mass:/FORTUNA/retroarchps2_mgba.elf
mass:/FORTUNA/retroarchps2_picodrive.elf
mass:/FORTUNA/retroarchps2_quicknes.elf
mc0:/APPS/retroarchps2_2048.elf
mc0:/APPS/retroarchps2_fceumm.elf
mc0:/APPS/retroarchps2_mgba.elf
mc0:/APPS/retroarchps2_picodrive.elf
mc0:/APPS/retroarchps2_quicknes.elf
mass:/APPS/retroarchps2_2048.elf
mass:/APPS/retroarchps2_fceumm.elf
mass:/APPS/retroarchps2_mgba.elf
mass:/APPS/retroarchps2_picodrive.elf
mass:/APPS/retroarchps2_quicknes.elf

SNESStation

mc0:/FORTUNA/snes_emu.elf
mass:/FORTUNA/snes_emu.elf
mc0:/APPS/snes_emu.elf
mass:/APPS/snes_emu.elf

PS2Ident

mc0:/FORTUNA/PS2Ident.elf
mass:/FORTUNA/PS2Ident.elf
mc0:/APPS/PS2Ident.elf
mass:/APPS/PS2Ident.elf
Source:
https://www.psx-place.com/threads/fortuna-launcher-by-vtstech-boot-elf-replacement.27254/
,
https://github.com/Veritas83/PS2_FORTUNA_Launcher
.
FORTUNA FMCB Launcher by VTSTech:
https://www.obscuregamers.com/threads/fortuna.1431/post-9364
.
Last edited: