Well-known member
Original poster
Registered
Jun 2, 2019
242
165
43
AGName

ItsMeMario
AG Join Date

Feb 11, 2014
I posted this back in the days on AG.
In 2019 Thomas Schaefer said the game (1 level ?) is still in his drawer...but never replied any further.
Someone added it to unseen64 in 2020 :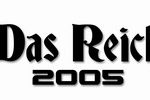 Preserving Details, Screenshots, Videos & more Lost Media for Das Reich 2005 (Joylabs) [PC - Cancelled] Help us to remember cancelled video games!

www.unseen64.net
The game probably started as "Y-Project" in 2003. "Y-Project" got canceled in 2003 to work on "Das Reich 2005".
Former team of german developer "Westka Interactive" and joylabs then dissapeared shortly afterwards.
My bet is on "We will never hear about it again anyway"....but who knows... ;D